Venlo Greenhouses: Economical Quality
The Venlo greenhouse is probably the most well known type of greenhouse among professional growers. This design has proven to be the most economical greenhouse structure suitable for all crops in most climate conditions. The Venlo construction is storm safe. The ventilation system is truss-mounted and operated by means of a push-pull rail mechanic, with roof vents on both sides of the ridge. The roof vents are separately operated.
Specifications
Design and fabrication of all parts are done by Venlo.
Gutter heights are standard from 14.50' to 21.00'. Other heights are available.
Bay spacing: 10.00' (3.00m), 12.00', 13.125', 14.75'
Gutter heights are standard from 14.50' to 21.00'. Other heights are available.
Snow load are based on a 30 lbs load, with in addition crop load, live load and wind load. Load will be tailored to local requirements.
Steel structures are all galvanized after fabrication.
High quality aluminum roof, wih a special designed aluminum gutter.
3 Pane staggered venting.
Triple strength tempered glass is placed on the roof. Glass is supported on all four sides.
Truss mounted push-pull rail mechanic with roof vents on each side of the ridge are separately operated.
Exterior gladding is all done with special designed aluminum extrusions.
Click here to see pictures of several greenhouse projects

Truss sizes
21.00' / 6.40m - 2 peaks
21.00' / 6.40m - 2 peaks
24.00' / 7.315m - 2 peaks
26.25' / 8.00m - 2 peaks
31.50' / 9.60m - 3 peaks
36.00' / 10.973m - 3 peaks
39.37' / 12.00m - 3 peaks
42.00' / 12.80m - 4 peaks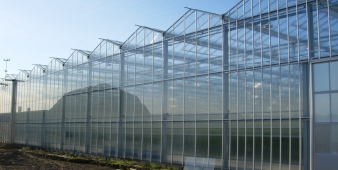 Construction
As we have our own building crews, we can take care of the complete project. From the initial design to the construction of your greenhouse. Projects are installed according to job specifications, in a timely manner and with customers satisfaction as the highest goal. We can also supply just the materials for the job, with or without supervisors.